Insurance for Equine & Farm Animal Welfare Organizations
Don't get "stuck in the mud" with your current insurance.
Providing equine and farm animals with a second chance at life is no easy task. From animal handling, rescuing, and daily employee tasks, your organization faces many risks that your current insurance carrier isn't protecting you from! What's worse is that most carriers can't fully cover these organizations due to difficult exclusions, like breed or species restrictions, that hinder equine/farm animal rescues and sanctuaries from getting the protection they actually need.
Don't worry, that's where we come in.
(we don't "horse" around!)
Full protection no matter the breed, no matter the need.
When we say "no matter the breed, no matter the need," we mean it! AWOIP provides superior insurance protection with no breed or species restrictions to equine/farm animal rescues and sanctuaries of all sizes. 
But we don't stop there. Our team of experts works to understand your organization's specific needs and the layout of your operations to help provide helpful insight as to how you can minimize risks and avoid potential losses. We also provide tons of risk management tools, like sample agreements and waivers, to our members so they can use them to their advantage in protecting their operations.
"I was impressed with how comprehensive the policy was, providing coverage for all of our needs. I would definitely recommend AWOIP to anyone working with animals."

Licensed Insurance Professionals With a Passion for Animals
Licensed insurance professionals with a passion for animals and an endearing knowledge of animal welfare that are anxious to assist you with not only insurance protection specific to your organization's needs, but provide you tools to minimize the risks of the organization through our customized tools and resources.

Insurance Protection Exclusively for Animal Welfare Organizations.
Exclusive and unique insurance protection for only animal welfare organizations across the USA.
Oh, and did we mention we have no breed or species restrictions?!

We Are In the Trenches With You as You Advocate for the Animals.
Don't be surprised if you run into us stomping along with you on the stairs of the capital for animal rights or sitting next to you at an educational conference learning more about animal welfare.

Gain Access to Tons of Risk Mitigation Tools
AWOIP members gain access to tons of risk mitigation tools, including resources custom designed for employees/volunteers, adoption programs, foster programs, and more!
Webinar: "A Tame Approach to Protecting Your Sanctuary"
Want to learn how to even better protect your sanctuary? Watch our webinar, hosted by the Global Federation of Animal Sanctuaries (GFAS), where our team discusses some of the crucial ins-and-outs of proper insurance protections for animal sanctuaries of all kinds and how you can apply them to your sanctuary!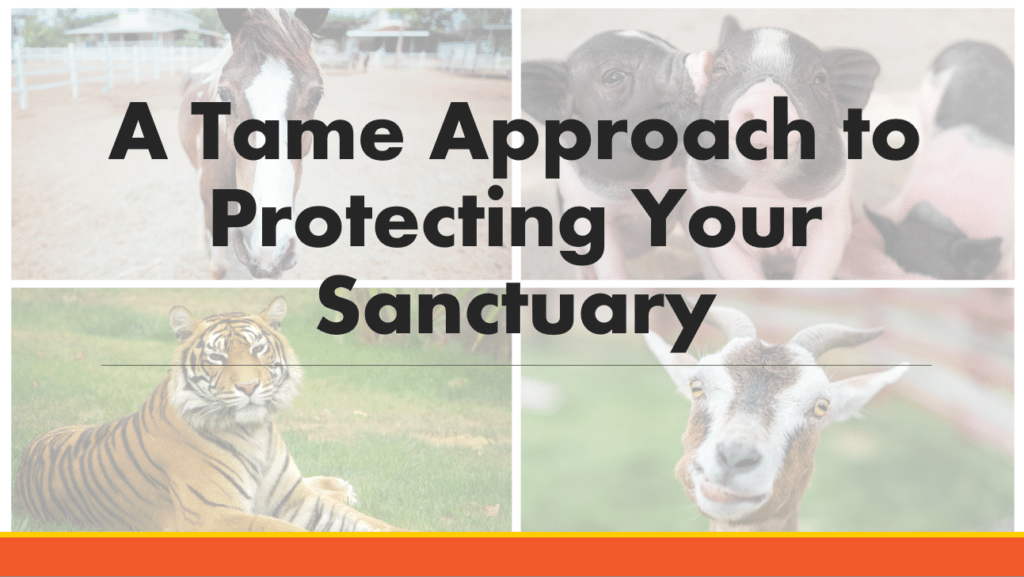 "Thank you to all the folks at AWOIP for helping our rescue save money, remain fully protected, and to give us the peace of mind so that we can focus on rescue!"